The Faculty of Indian Music and Dance of Kala Academy imparts training in Classical Vocal and Instrumental music and also in two Classical dance styles Bharatanatyam and Kathak.
Kala Academy's Rural Music Centres are located at Pernem, Sankhali, Valpoi, Sanguem, Quepem and Canacona and are imparting training in Classical Vocal, Tabla and Harmonium to the students residing in the remote places of Goa. The teachers of the Rural Music Centres are training the students, from Foundation-1st year to Madhyama-3rd year. After passing Madhyama 3rd year examination, the students become eligible to take admission for higher education in music in the Faculty of Indian Music and Dance, at Kala Academy Goa. The Rural Music Centres are performing their activities in rural areas like organizing concerts and cultural programmes. The Rural Music Centres presented programmes on monthly basis in the Black BoxofKala Academy during the year.
Guru Poornima & Sangeet Melawa
Kala Academy's Faculty of Indian Music & Dance celebrated "Guru Poornima" on 22nd July, 2013 and "Sangeet Melawa" on 23rd July at the Black Box of Kala Academy, Panaji. The students of the Faculty ofIndian Music & Dance and the Rural Music Centres from Pernem, Valpoi, Sankhali, Sanguem, Quepem & Canacona staged variety ofperformances of Indian classical vocal and instrumental music.
Surashree Kesarbai Kerkar Smriti Sangeet Samaroh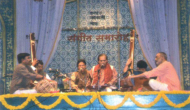 The 33rd Surashree Kesarbai Smriti Sangeet Samaroh was organised on 8th, 9th & l O" November 2013 at the Dinanath Mangeshkar Kala Mandir, Panaji – Goa. This festival is rated as one ofthe prestigious musical festival in India and is dedicated to the memory of legendary Goan Vocalist Late Surashree Kesarbai Kerkar.Many renowned artistes from India participated in this prestigious festival.
The festival was inaugurated at the hands of Shri Vishnu Surya Wagh, Chairman of Kala Academy. Shri. Sushant Khedekar, Vice Chairman of Kala Academy released the book "Eka Surashrichi Katha" written by Shri. Vishnu Wagh on the life of Late Surashree Kesarbai Kerkar on this auspicious occasron. The first session witnessed a vocal recital by duo of sisters Smt. Pallavi Joshi and Apurva Gokhale (Mumbai) followed by vocal recital by Pt. Sarathi Chatterjee (NewDelhi). On the next day i.e on 9th November, the session began with a vocal recital of Shri Nitin Dhavalikar (Goa) followed by Jugalbandi of Instrumental music (Trio) by Shri Naresh Madgaonkar (Goa), Sonik Velingkar (Goa), and Sarang Kulkarni (Belgaum). The trio presented a melodious rendition on Santoor, Flute and Harmonium respectively. After the Jugalbandi, Smt. Saniya Patankar (Pune) rendered a Vocal recital followed by Sarod recital by Shri Abhishek Lahiri (Kolkata). The session concluded with vocal concert by Pt. Kaivalyakumar (Dharwad), renowned vocalist of Kirana Gharana.
On the third day i.e on 10th November 2012, the morning session began with a vocal recital by Shri Rajendra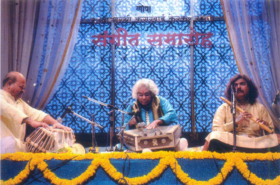 Vaishnav (Jodhpur) followed by Sarangi recital by Farooque Latif Khan (Mumbai). The first session concluded with vocal recital by senior artist Pt. Vijay Bakshi (Pune).
The concluding session of the festival witnessed vocal recital by promising young vocalist Shri Ramakant Gaikwad (Pune) followed by Sitar recital by Smt. Sahana Banarji (Kolkata). Shri Prasad Khaparde (Nashik) presented his vocal recital followed by instrumental jugalbandi by Pt. Tarun Bhattacharya (Santoor) and Pt. Pravin Godkhindi (Flute). The concluding concert of the sammelan was the Vocal recital by Ustad Aslam Khan (Mumbai),Senior Hindustani classical vocalist.